A bunch of fMMS improvements
Since an image says more than a thousand words here are some pictures showing what has been changed in fMMS since 1.0.3. Pictures after the break.
Status bar icon shown when Havoc mode is connected:


Status bar button shown when Havoc mode is connected:

New MMS notification: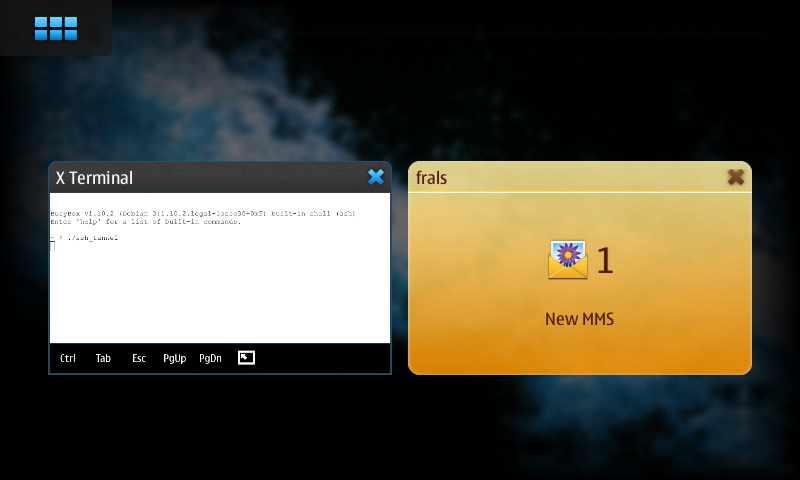 Localized strings: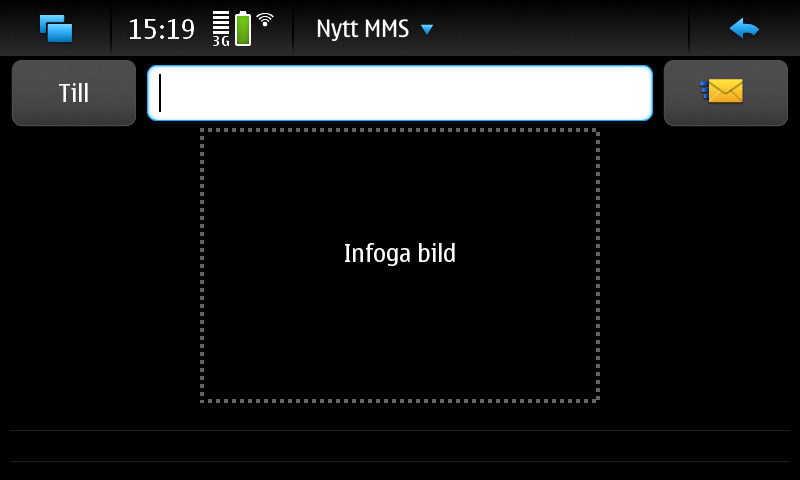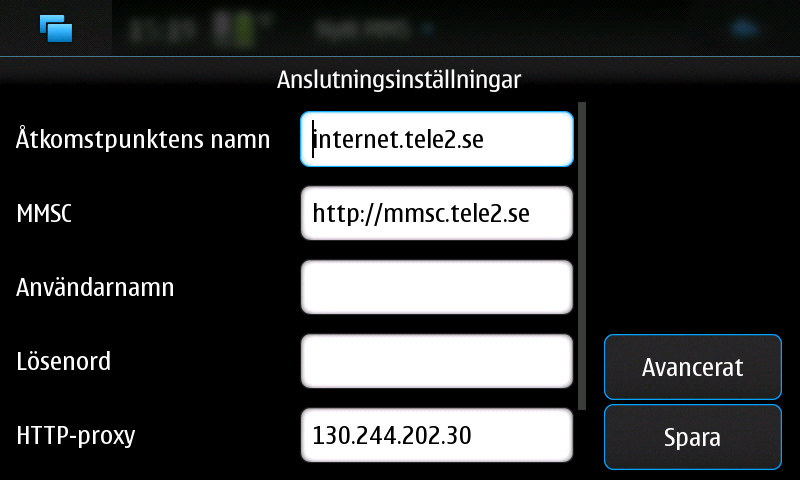 Thats all for this time, hope you continue to enjoy using fMMS and report any issues or missing features!
PS. Received VCARDs should now show up as a button, clicking this button should ask you if you want to import it to the addressbook. :)
Comments
Comment by Claudius on 2010-05-30 11:28:24 +0200
I would like to offer my help in creating the german translation for fMMS. I already requested to join the project in the maemo Garage.
Comment by frals on 2010-05-30 13:00:18 +0200
Thank you, I've accepted the join request. I'll get a post up soon ™ on how to contribute translations :)
Comment by Bogdan on 2010-05-30 16:23:36 +0200
hi. i can't use fmms it's not work, and i have a problem with update my n900 version 10.2010.19.1 thanks
Comment by dennis on 2010-05-30 18:34:55 +0200
Would you please show how to configure the settings on your app and on the n900 for T-mobile(US) so it will work. Finding these settings is harder than who shot Kennedy. Not user friendly. Thanks, Dennis
Comment by Daniel Persson on 2010-05-30 22:15:58 +0200
Hello.
Very nice.
Another cool feature is to be able to recive Mapcordinates that opens up in OVI Maps automaticly.
Its a nice feature for example when you are about to visit a friend for the first time and your friend resides in countryside without a easy to find street number and so on.
Comment by PhantomBurn on 2010-05-31 00:45:20 +0200
@dennis I have T-Mo as well, the app works for me. Do a google search for T-Mo MMC settings if not PM me over at Maemo.org.
I just want to know if we still need the second AGP setup or if we can kill it now.
Comment by frals on 2010-05-31 10:15:11 +0200
@PhantomBurn: Yes, don't kill it as fMMS is storing all the connection related settings in there (assuming you meant APN not AGP :))
@Daniel Person: I'll look in to it, but I'm not sure it's doable actually :(
Comment by Tomas on 2010-05-31 12:53:40 +0200
Från tråden,
https://forum.tewss.telia.se/topic/257-mms-for-n900/
Man kan inte längre editera Telia anslutningen för att sätta/ändra detta, behövs det längre?
Öppna Internetanslutningar igen och markera Telia Internet (den andra APNen) och redigera.
Tryck bara Nästa och Nästa så att du kan tycka på Avancerat.
Markera: Använd Proxy.
Skriv in i HTTP proxy: 10.254.254.254
Skriv in i Portnummer: 8080
Skriv in i HTTPS proxy: 10.254.254.254
Skriv in i Portnummer: 8080
Tryck Spara.
Tryck Slutför.
Och i underliggande fönster, tryck OK.
Och nästa fönster, Spara
—————–
Fick aldrig tidigare versionen att funka tänkte prova igen, tog bort fAPN och TeliaMMS eftersom dom inte ska behövas längre. (nu med fMMS v1.1.1.2)
Matade in
Åtkomstpunktens namn: mms.telia.se
MMSC: http://mmss/
Användarnamn: mms
Lösenord: telia
HTTP proxy: 193.209.134.132
Ser att jag har ett MMS, men kan inte hämta/skicka, fast för evigt då jag försöjer.
Verkar gå över 3g att se om man har som det ser ut då det kommer upp utan internet anslutning.
Alla förslag mottages tacksamt.
Tack för en bra pryl som jag saknat.
Mvh,
Tomas
Comment by Jonathan on 2010-05-31 18:45:18 +0200
I have to tell you that I am not a programmer by any means. I had an N97 and was left wanting more. I craved the N900 but picture messaging was a huge deturing factor.
Your product is single handedly making this phone very appealing to many more general users. I cannot thank you enough. I can truly say may phone does everything yours does and much much more.
Thank you for all the hard work. Nokia needs to get you hired!
The only thing i could suggest, and believe me I love fMMS just as it is, would be Video messaging and audio files. Its the only thing the standard messaging client does now that yours doesn't. (If it does and I just haven't figured it out then I appologize).
But thanks for all the hard work and please keep going. Nokia owes you a great deal.
Jonathan
Comment by Rodolfo on 2010-05-31 18:55:46 +0200
hello,
i still don't get what's going on with my n900. I just receive mms, but nobody is getting my mmss. Any idea?
Tks so far and tks for ur excellent work!
RTS
Comment by kenroy on 2010-06-01 05:48:09 +0200
Hi im with fido in canada and it wont give me a 3g connection just 2.5 I still can not receive picture messages and would really like to since its part of my contract. can you help me please to show me how to configure this for FIDO.
Comment by Corwin on 2010-06-01 09:30:04 +0200
I would also like to contributre to the german translation. Unfortunately I seem to be too stupid ;) Is it really onls downloading the pot file, edit the german strings in the msgstr and thats it? Or can it also be done on transifex with some web frontend? Seems easier.
Comment by dennis on 2010-06-01 17:17:59 +0200
Phantomburn, Thanks for the response. I did google t-mobile mms settings and got a lot of iphone help. Could some body please post the t-mobile(US) settings for both the fmms app and the apn. Also, when I send a mms message,do I send it with +1 area code-number or can it be sent as area code-number. Thanks, Dennis
Comment by theflew on 2010-06-01 18:09:43 +0200
APN configurations:
Comment by Dennis on 2010-06-01 22:29:43 +0200
Thanks for the website. Got the fmms to work. Dennis
Comment by Nobody Special on 2010-06-03 12:38:58 +0200
Thanks for the update, fMMS began working in the Philippines using 'Smart' after this last update.
Comment by antoniogaspar on 2010-06-03 17:31:00 +0200
is any improvements in fmms about image size? because when i need to send images to phones like nokia 5310, small models all the persons says that they don t received or images can t be see, i`ve changed the size and they don t receive image complete, is any person whit same trouble? thanks for atentiom
Comment by Kari on 2010-06-04 11:33:12 +0200
Hi,
Sending to multiple recipients at the same time would be great feature. So tapping and selecting from the list like you can do with sms.
Comment by Syntax on 2010-06-05 09:10:43 +0200
Errrhh, i am a little new to this, so i must ask how to get hold of all the dependent files, like python-hildon and so on.
Thanx for any help and advice.
Comment by Gezim on 2010-06-05 17:06:03 +0200
hejsan!
Snälla någon hjälp mig med att få mitt mms att fungera, jag blir galen snart.
Har försökt på att möjliga vis men jag får bara massa felmeddelande hela tiden.
Jag har comviq/tele2 kontantkort i mobilen..
Mejla mig eller adda mig på msn någon snäll där ute som kan hjälpa mig.
Comment by Gezim on 2010-06-05 17:07:10 +0200
hejsan!
Snälla någon hjälp mig med att få mitt mms att fungera, jag blir galen snart.
Har försökt på att möjliga vis men jag får bara massa felmeddelande hela tiden.
Jag har comviq/tele2 kontantkort i mobilen..
Mejla mig eller adda mig på msn någon snäll där ute som kan hjälpa mig.
MSN: Haliligezim@hotmail.com
Mejl: Haliligezim@gmail.com
Comment by Iker on 2010-06-07 12:21:45 +0200
@frals
To install the latest 1.1.6 version, I downloaded both "fmms_1.1.6_all.deb" and "statusmenu-fmms_1.1_armel.deb". The app manager (which opens automatically when clicling on the files from the file browser) says that the "statusmenu-fmms_1.1_armel.deb" is not installable because it is not compatible, and therefore also "fmms_1.1.6_all.deb" cannot be installed because it depends on the statusmenu. How do I install fMMS 1.1.6? I have fMMS 1.0.3 already installed.
Thanks.
Comment by Ari on 2010-06-09 09:31:22 +0200
fmms really is something that has been missing. Thanks a lot for doing that!
One feature I'd really like to see is what Kari above is also suggesting, senging the mms to multiple recipients at the same time. That would be great.
Comment by hans on 2010-06-15 21:33:07 +0200
I have the same problem as Iker above
I want to install the newest fmms but the statusmenu-fmms missing
installing statusmenu-fmms results in package incompatible …
Comment by Danne on 2010-06-18 18:36:39 +0200
Hej!
Jag kan ta emot mms, men ej öppna.
När jag fyllt i ip till telenor, 172.030.253.241, och sedan sparar, tas nollan i 030 bort så det som sparas är 172.30.253.241.
Bug eller annat?
mvh
Danne
Comment by ben on 2010-06-19 10:20:10 +0200
installed fmmson my vodafone firmware – worked perectly – an absolute must for this phone.
have now flashed my phone to 1.2 and downloaded 1.1.9. it installs fine but wont open – it starts to but then shuts down.
any suggestions as i really miss using it!!
Comment by ouq77 on 2010-06-19 13:52:38 +0200
Working great on Vodacom (South Africa). Thanks!
Will you be adding support to add multiple recipients?
Comment by ben on 2010-06-22 10:14:56 +0200
have reflashed os and emmc – reloaded fmms and it works perfectly again!
Comment by liogr on 2010-06-25 19:42:23 +0200
I have submitted the Greek translation for fMMS, but I don't know how to translate "Havoc/Polite/Rude". I've translated them using their Greek meaning, but they don't sound so good.
Any suggestions?
Comment by Cathrine on 2010-06-26 21:01:55 +0200
Må bare si at du er genial Frals. Sier som en annen over, din fMMS gjør N900 attraktiv for mange fler. Mangel på MMS var mitt eneste argument imot N900, og nå har jeg vært lykkelig eier av denne telefonen i 3 måneder. Tusen takk for ditt bidrag!! Hoppas du forstår min norska!! Keep up the good work!
Comment by Twyla on 2010-07-01 19:27:45 +0200
I have installed fMMS on my N900 and it works perfectly. I have both sent and received picture messages. However, the default internet connection is now "Vodafone MMS" instead of "Contract WAP". How can I change this?
P.S. THANK YOU SO MUCH FOR THIS APP'! :)
Comment by blade_0363 on 2010-07-06 11:13:38 +0200
ppl i need help im trying to config fmms for my nokia n900 for vodafone uk with no sucess please show me how
Comment by terry on 2010-07-17 09:35:01 +0200
hi i'm using the latest version of fmms in netherlands. i've been using the settings values shown on the wiki maemo blog but when i send it shows a very large pale yellow error window with what looks like source code written in the window, and of course the mms doesnt send. any ideas?
thanks-i'm very eager to have this function for this phone. thanks for the hard work
Comment by luis on 2011-03-01 23:27:59 +0100
i want to now.. why i can´t send mms videos by him, only pics